Padiglione Tavolara,
Sassari,
December 20, 2022

August 30, 2023
Tuesday – Sunday: 10:00 – 20.00
Padiglione Tavolara,
Sassari,
December 20, 2022


August 30, 2023
Tuesday – Sunday
10:00 – 20.00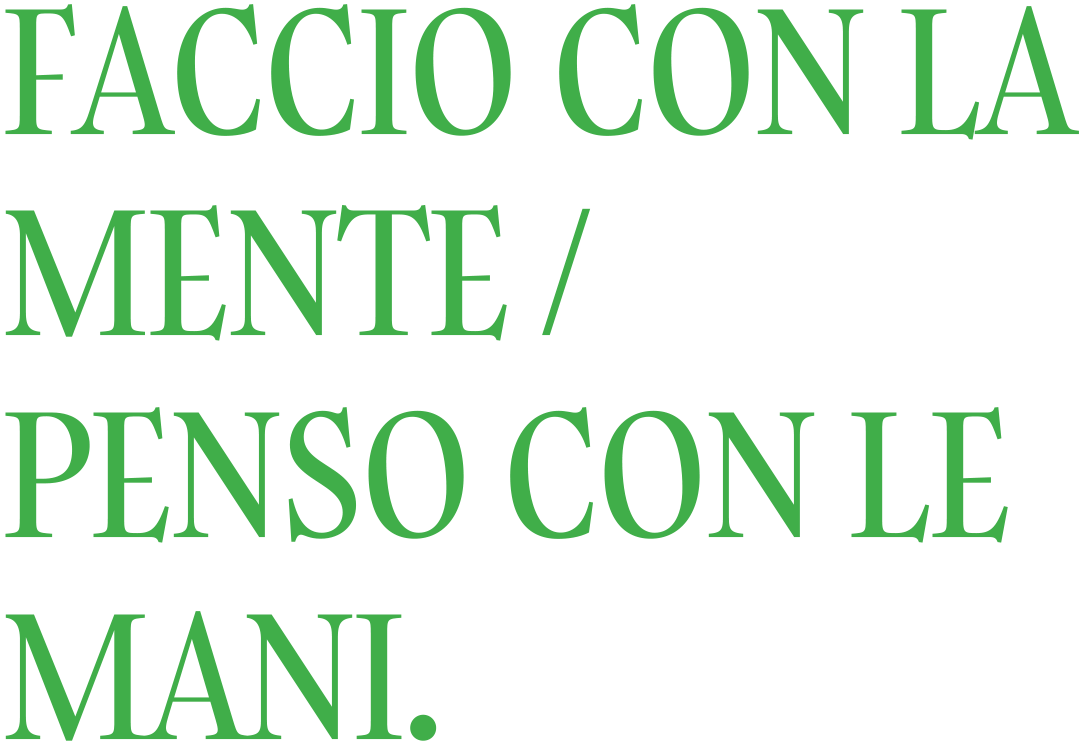 Artisans, Designers, and Makers
of contemporary Sardinia
curated by Giuliana Altea, Antonella Camarda, Luca Cheri
The exhibition recounts the last fifteen years of creative projects made in Sardinia in the expanded design field, presenting a range of productions from industrial design to the recovery of ancient craft techniques, from high-tech to experimental archeology, challenging the view of an island that passively re-proposes a timeless tradition.
This ferment of ideas, objects, and projects already ten years ago found a prestigious international recognition with the Compasso d'oro ADI – Association for Industrial Design, awarded to the XIX DOMO Biennial of Crafts. Today it has entered a new phase, more dynamic and attentive to sustainability.
Creatives from various disciplinary fields (industrial, graphic and fashion design, visual arts, architecture) meet exponents of the traditional and innovative craft world, giving life to collections, special projects, and new productions.
The result is a universe of activities and research that today makes Sardinia a field of experimentation at the crossroads between design, craftsmanship, architecture and art, among the most interesting in the Italian context and beyond. From textiles to wood, from metals to ceramics, from goldsmithing to fashion, the new protagonists of the Sardinian scene bring traditional colors, shapes and materials into the present day.
The exhibition brings back to the public the Tavolara Pavilion, an architectural jewel designed in 1956 by Ubaldo Badas (1904 – 1985) to host the shows of ISOLA, the Sardinian Institute for Artisan Work Organization, an endeavor founded under the guidance of the designer Eugenio Tavolara (1901 – 1963) to encourage the renewal of Sardinian craftsmanship through dialogue between artists, designers, and artisans.
In the spirit of experimentation and networking of Eugenio Tavolara, the encounter between projects and manual skills takes place today on a level of sharing, dialogue, and equal exchange, generating new culture and a new economy.
Making and thinking, skill and design, equally characterize the activity of artisans, designers and makers, who work independently or team up for complex projects. Tradition is a starting point, sometimes a destination, but never a restraint or an obstacle to experimentation.
Sardinia is a physical place and, above all, a state of mind. Some have never left it. Some have returned to build a future. Others have found a new home here or stayed just for the time of an experience. Some live abroad but carry it, however, within themselves.
For everyone, it is an essential element of comparison, a source of inspiration, or a stimulus for change.
The interweaving of paths and experiences creates a network of relationships that crosses the Mediterranean, whose protagonists discover themselves as local and global, attached to their roots and always looking for new ways.
FACCIO CON LA MENTE PENSO CON LE MANI
Artigianə, Designer e Makers della Sardegna contemporanea
curated by Giuliana Altea, Antonella Camarda e Luca Cheri
Padiglione Tavolara, Sassari
20/12/2022 – 30/08/2023
An event by Comune di Sassari
Organized by Fondazione Nivola
With the support of Regione Autonoma della Sardegna, Fondazione di Sardegna;
and the collaboration of Confartigianato Imprese Sassari
Curatorial assistent: Camilla Mattola
Exhibition design: Alessandro Floris
Graphic design: Heart Studio
Exhibition set up: Artigianato e design di Pietro Fois
Prints: Character
Press office: Gianluca Nonnis
t: +39 3487774402
gianluca.nonnis@fservices.it
https://museonivola.it/padiglionetavolara
ig: @padiglionetavolara
fb: @padiglionetavolara
info@museonivola.it
On exhibit:
Alterego Surfboards, Antonio Arcadu, Stefano Asili, Silvio Betterelli, Andrea Branzi, Arias, Artijanus Artijanas, BAM Design, Silvio Betterelli, Stefano Carta Vasconcellos, Monica Casu, Annalisa Cocco, Serena Confalonieri, Cube Controls, Antonello Cuccu, Paolo Curreli, Gianni Cusinu, Mara Damiani, Ebanisteria Meccanica, Fabrizio Felici, Giuseppe Flore, Antonio Forteleoni, Jari Franceschetto, Caterina Frongia, Francesco Frulio, Pietro Fois, Heart Studio, Paulina Herrera, Giulio Iacchetti, Lalanà, MAAN Motocicli Audaci, Antonio Marras, Carolina Melis, Roberta Morittu, Mustras, Antonio Nivola, Eugenia Pinna, Pretziada, Caterina Quartana, Fabio Ruina, Sans Nom, Studio Salaris, Celestino Sanna, Mauro Scassellati, Gianfranco Setzu, Studio Pratha, Celestino Sanna Studio, Tempo Artigiano, Terrapintada, Tessile Medusa, Maria Antonia Urru, Walter Usai, Sara Vignoli, Roberto Virdis, Zannellato/Bortotto.
Ed inoltre / and: Accademia di Belle Arti "Mario Sironi", Sassari, DADU Dipartimento di Architettura, Design e Urbanistica, Università di Sassari, IED Istituto Europeo di Design, Cagliari.
Opening hours
Tuesday – Sunday : 10:00 – 20.00
closed on monday
Last admission 45 minutes before closing time
Admission
Full: 5 euro
Reduced: 3 euros
students and groups of 10 or more people
Free
Kids up to 18 years; visitors with disabilities and one accompanying friend; Professional registered tourist guides
Accessibility
The main access to the exhibition is via the ramp on the left. The ramp has a slope of approximately 14%. The exhibition can be accessed via the lift located at the end of the Salone delle Botteghe here on the right.
The exhibition space is free from architectural barriers.